Happy hump day friends! Before I get to the new challenge for today, let's take a look at the winning layout from the last 1-2-3 Challenge. Congratulations to Melissa, who wins any kit of her choice from my shoppe!
Melissa, to claim your prize, browse thru the kits HERE and then send me an email (sherrie [at] pixelgypsydesigns [dot] com) letting me know which kit you'd like!
Now on to our next challenge! It's a Write On Challenge, which means there is some journaling involved, but have no fear. Even those of you who aren't so hip to lots of journaling on your pages are going to find this one easy-peasy!
I myself am not a prolific journaler. Every once in a while I'll include a short paragraph, but I'm not a scrapper who gets into lengthy writing on her pages. One way I really like to incorporate text that has meaning to me on a page is via lists. They're virtually painless to write and they do a great job of providing the snapshot of info on the subject of the layout.
For this Write On Challenge, I want you to create a favorites list of some kind. In my layout, I documented my son's list of favorites for this month (because you know it changes often!). You can follow my lead, or you can create a favorites of the year list, favorites of all time, favorite foods, favorite music, favorite…anything! The sky is the limit on how you choose to form and focus your list—it just has to be there. There are also no rules on how many items you have to include on your list. Be as short or lengthy as you please. :)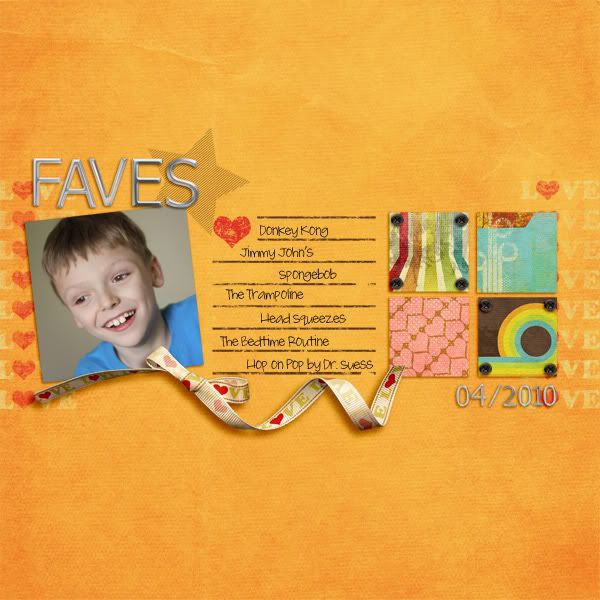 Prize: One winner will receive their choice of any one element pack from my shoppe.
Deadline: Please link me up to your layout challenge layout in the comments of this post no later than Tuesday, May 4th.
I can't wait to see your list!