I wanted to blog about this on Saturday, but didn't stop to take any photos until this morning. One of my favorite things about being a designer in the digital scrapbooking world is that I have the opportunity to meet so many wonderful, really kind people.
When Scott brought the mail in on Saturday, I had a package waiting for me from Candy, who is on the PGD creative team. About a month ago I started working on a collection of kits inspired by the girls on the CT, based on color palettes that they chose and using themes and elements that they love to scrap with. Candy's kit was my first, and through the process I learned that she loves fairies. I'm a fairy lover too and am starting to amass a very respectable collection of prints, figurines and fairy art books, all of which (with the exception of my art books) are surrounding me at my desk when I work.
I talked with Candy about making a fairy themed kit and she was really excited about the idea. I dug right into making it and I think it was the single most fun creative journey I've been on yet involving digital scrapbooking. And miss Candy, total sweetheart that she is, sent me the most adorable little pewter fairy figure for my collection along with a note thanking me for the kit! I wanted to share with you a few photos of my newest little winged friend, who immediately joined the others on my desk....to help inspire me with a little bit of fairy magic each and every day. :)
Thank you so much Candy, for this little beauty! I love her!
See the little orange jewel she's cradling in her hands? :D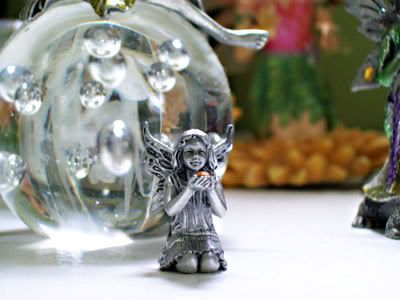 Side view...she has a detailed wing design...someone really enjoyed sculpting her.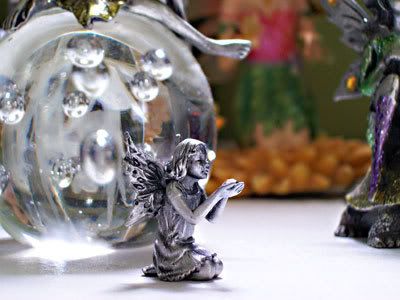 And with the beautiful card that accompanied my new fairy friend....this will be framed and set on my desk as well! :D