Happy Monday all! This weekend was the wrap up of spring break in our corner of the world and I know Nicholas and I are happy to have our routine back. Madison wasn't ready to go back to school, but she perked up last night when I pointed out how close summer vacation really is now. She's such an easy kid to cheer up—we just have to help her re-frame her perspective once in a while. ;)
I know I haven't been too regular on posting Cool Digi Stuff the past Mondays, but with the {near} completion of our office, the kidlets' return to school and my improved health I'm ready to get back at it. In fact, today I'm pointing you toward some freebies that are going to keep on giving for a while! (Does that make up for a less than stellar posting record?)
In case you're not aware, Little Dreamer Designs is running their apprentice program again and it just started. That means for the coming weeks you're going to have the opportunity to download the great freebies these designers create as they move through the competition. The Round 1 freebies can be found HERE. Don't wait around to download though, because I believe they're available only for a limited time. Then keep checking back HERE for subsequent freebies from future rounds as the competition tightens!
It's time for another Pixel Peek from me too! I have a new kit hitting my shoppe on Wednesday—here's a little peek: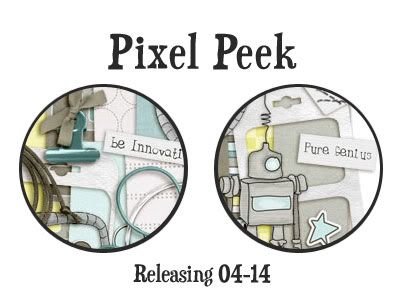 Oh, and hey—don't forget about the 1-2-3 Challenge going on right now here on my blog. You still have until next Tuesday to whip up an awesome layout for yourself following the challenge rules and I'll be picking a winner who will receive a free kit of their choice from my shoppe. Check it out if you haven't already!
Until next time…happy scrapping!